January 9, 2023
December 4, 2022
July 3, 2022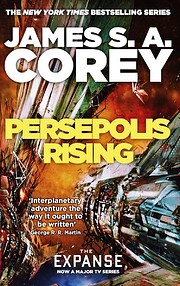 This is the seventh book in The Expanse series, it takes place thirty years after the events in Babylon's Ashes. Earth and Mars are part of a coalition and the Belt has come into its own power governing trade through the gate.
The Roci is sent on an incidental mission to Freehold, where Holden renegotiates the Transport Union's demands on Freehold, who would have died from those demands. Holden brings back Houston, their leader as prisoner. On returning, Holden and Noami decide to retire leaving the Roci to Bobbie as captain.
The main plot revolves around Laconia, who has been experimenting with the protomolecule and developing new technologies. The Laconians invade with one ship, quickly taking over the Medina station, leaving Santiago Singh as governor, then heading for the inner planets, with another ship on-way to the gate. The Roci crew don't have access to their ship and join Saba in the underground. Jim Holden is ultimately taken prisoner and transported to Laconia. The first Laconian ship was defeated in a costly series of battles, but not destroyed. The book closes with Holden arriving on Laconia as prisoner and the Laconians still a looming thread with their second ship near to arriving.
Another twist is that when the Laconians use their protomolecule-based technologies, an odd black sphere appears on their primary ship and moves completely with the ship. Holden identified it as belonging to the people who destroyed the civilization that made the protomolecule.
One problem is that after 30 years from the last book, the characters have aged, but there doesn't seem to be any character growth in that time. It's still the same characters, the book could have taken a month and it would be the same, the time frame only seems to provide an opportunity for the Laconian technology development.
Aside from that, this is one of the better books in a while. It is a lot of action with some weird technologies thrown in.
August 8, 2021
July 1, 2021
May 13, 2021
April 29, 2021
April 7, 2021
March 29, 2021
March 27, 2021
Older Posts »