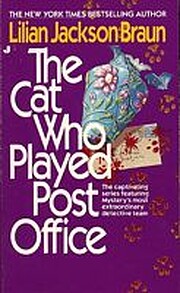 In the opening of the book, Qwill is suffering from amnesia following a bicycle accident. This provides a good opening and sets the stage for the book.
Qwill has inherited a lot of money, if he can live in the mansion in Pickaxe City for five years. While swearing that he doesn't want the money and likes the simple life, he spends a lot of his time hiring staff, having a lavish party and feeding his cats caviar and other fine foods. While taking inventory of his new home, Koko shows him clues to a missing girl.
The newspaper investigator in him cannot let it go, he investigates the girl while trying to manage a large estate. Archie, Qwill's former boss, tries to convince him to stop investigating as it appears someone my be trying to kill him. Then a random murder happens, is it tourists? If Qwill dies the money goes to a company in New Jersey, would they stoop to murder? Although Qwill continues his investigation, it is Koko who has the answers, if only Qwill would listen.
The book is fun in the typical style of the author but it had two disappointing parts. The accident at the beginning of the book happened before his investigation began. And the denouement came through a secondary character, not Qwill, although Koko had the information he needed. It is still a good story.