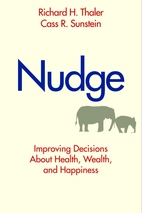 This book is slow and I find the author demeaning. He isn't teaching about how to improve your skills, it is more about choice architecture. It itself, that could be interesting, but the author is 'nudging' the reader toward libertarian paternalism. He starts arguments with 'givens' that the reader is supposed to accept, and I couldn't accept them. He draws conclusions about medical care and retirement with his socio-political views that I don't agree with.
He talks down to the reader, it felt like a waste of time. I will not finish this book.
zero comments so far »
Please won't you leave a comment, below? It'll put some text here!
Copy link for RSS feed for comments on this post or for TrackBack URI
Leave a comment
Line and paragraph breaks automatic, e-mail address never displayed, HTML allowed: <a href="" title=""> <abbr title=""> <acronym title=""> <b> <blockquote cite=""> <cite> <code> <del datetime=""> <em> <i> <q cite=""> <s> <strike> <strong>