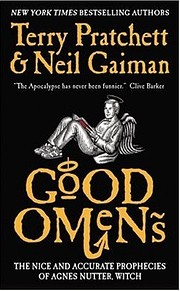 It's the end of the world, and things aren't quite going as planned. The antichrist has been born into the world, unfortunately there was this mixup at the hospital. He is raised as a middle-class human only becoming aware of his powers.
The Four Horsemen of the Apocalypse, you know, War, Death, Famine, and Pollution. Their horses have become motorcycles, and they arrive with the intent of starting a nuclear war.
Now, Aziraphale, an angel, and Crowley, a demon, aren't happy with the end of the world. After 6000 years, they've grown accustom to it. So they team up to try and change the outcome.
Pratchett and Gaiman have teamed up to bring an excellent and unlikely story of the end of time. There are a lot of interesting character that help carry the book in various directions.
A fan of either author will enjoy this book. It is funny, light, and a fairly quick read.
zero comments so far »
Please won't you leave a comment, below? It'll put some text here!
Copy link for RSS feed for comments on this post or for TrackBack URI
Leave a comment
Line and paragraph breaks automatic, e-mail address never displayed, HTML allowed: <a href="" title=""> <abbr title=""> <acronym title=""> <b> <blockquote cite=""> <cite> <code> <del datetime=""> <em> <i> <q cite=""> <s> <strike> <strong>