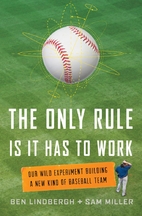 In this book, a couple of baseball podcasters with just a little management experience between them get the opportunity to manage a baseball team by the numbers. They offer to manage the team using statistics, similar to those used in the major leagues. The get the opportunity in a very minor league in Sanoma, California, the Sanoma Stompers.
In the course of their adventures, they learn that statistics aren't everything. They get resistance from players and other managers who don't want rules from outsiders. They learn about the politics of baseball, and that some things are more important than the statistics.
At times the books is outright funny, it is insightful, and you can learn a lot about the inside activities of baseball. It is an enjoyable read for anyone interested in the sport.