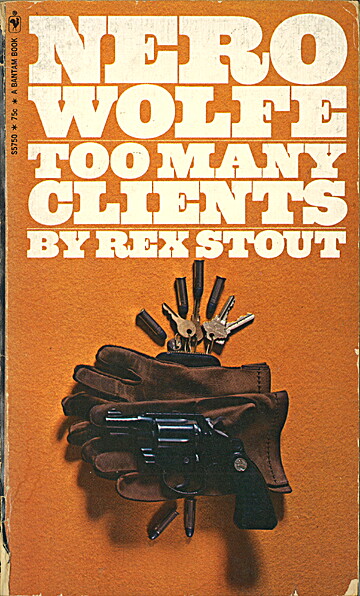 Starting slowly, Nero Wolfe needs clients to support his lifestyle. Archie is to find some. The mystery begins when Archie meets Thomas Yeager, the president of Continental Plastic Products. Thomas is concerned and wants to be able to make a clandestine meeting in a less-than-desirable part of town without being followed.
Archie arranges to watch him in controlled conditions so that he can make his meeting safely, but he doesn't show. The next day Thomas Yeager turns up dead outside of the meeting location, but it isn't the man that Archie met.
This is a good mystery, but Archie still doesn't have a client. He proceeds with an investigation, staying both just ahead of the police and keeping out of jail for interfering.
At the address that Thomas gave, Archie finds an apartment set up as a private love nest done out in style. He manages to get several clients, the owners of the love nest, the directors of the Continental Plastics Company, and the wife of Thomas Yeager, each of whom is looking for a different outcome. He and Nero Wolfe have to keep the clients separate, feed them the information they are entitled to and feed the police what is necessary and not raise too much suspicion.
It's a fun read and a good mystery.
zero comments so far »
Please won't you leave a comment, below? It'll put some text here!
Copy link for RSS feed for comments on this post or for TrackBack URI
Leave a comment
Line and paragraph breaks automatic, e-mail address never displayed, HTML allowed: <a href="" title=""> <abbr title=""> <acronym title=""> <b> <blockquote cite=""> <cite> <code> <del datetime=""> <em> <i> <q cite=""> <s> <strike> <strong>