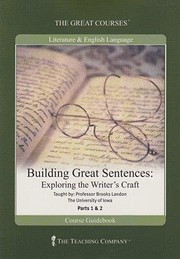 This is a Great Courses video series on crafting sentences. It walks its audience through different sentence types and goes into the rhythm of a sentence, discussing the value of longer and shorter sentences and why. There are a lot of examples, it wanders into ideas from antiquity and touches on the bad ideas and why they are bad.
Overall, it provides a wealth of information and will enhance the audience appreciation of a well-written sentence.
zero comments so far »
Please won't you leave a comment, below? It'll put some text here!
Copy link for RSS feed for comments on this post or for TrackBack URI
Leave a comment
Line and paragraph breaks automatic, e-mail address never displayed, HTML allowed: <a href="" title=""> <abbr title=""> <acronym title=""> <b> <blockquote cite=""> <cite> <code> <del datetime=""> <em> <i> <q cite=""> <s> <strike> <strong>